Here are a few questions that we regularly get asked by our customers. We hope that you can find what you are looking for.
If the answer you are looking for isn't here, or if you have any questions please give us a call on 1300 323 322, we are more than happy to help!
What are corflute signs?
Corflute is a type of plastic which is lightweight and weather resistant. This material is perfect for both outdoor and indoor signs. Many companies in the construction and real estate industries use this form of company signage for their temporary and more permanent advertisements. Many of our clients use custom printed corflute signs to display site safety rules in and around their construction sites to keep employees and the public safe at all times.
What are front lit vinyl banners?
Vinyl Banners are typically used for outdoor advertising throughout a number of industries. Heavy weight vinyl is used for these banners (typically called PVC) which has a 3-5-year lifespan. When they're printed on, it's important to use quality UV protected ink for longer lasting visual impact. Frontlit vinyl banners can be totally customised from the shape, size and print.
How does the process work?
You can prepare artwork yourself or let our in house graphic designers assist, just send us your logos, images and text.
Once you have provided your artwork or our designers have prepared it, we will provide you with a proof. Once you sign off the artwork we can schedule your project for printing.
What is the expected turnaround time on an order?
Turnaround time on orders is not a straightforward question to answer. We can usually offer 7 full working days turnaround from when the artwork is signed off to when it will be delivered.
The whole process can be much quicker if the print ready artwork is supplied by you or proofs signed off in a timely manner.
What product do I need for my site?
Different products have different purposes.
Our different types of materials to choose from for Temporary Fence Signage, each have their own characteristics in terms of print quality, and suitability for different environments.
Our website page choosing the right product can help guide you through the process and explain whit product best fits your needs.
How do I attach the sign/mesh to my fence?
We offer a range of different finishes to help you attach your Printed Banners, Shade Cloth , and signs to fences or scaffolding.
Vinyl Banners and Banner Mesh products come as a standard with stainless steel eyelets, printed shade cloth rolls come as a standard with button holes.
You can attach these simply with cable ties or with Jambro Fasteners using a Jambro Gun.
Our fixtures and fittings page has more information on how you can attach your printed products to your fence.
What is the difference between Shade Cloth and Banner Mesh?
The two different products have different purposes a very breif explanation is:
Banner Mesh is a premium product. It has a tighter weave therefore is the thickest or denser fabric and provides the greatest UV block-out capability and less transparent for privacy.
Shade Cloth has an open weave is a lighter fabric and is ideal for high wind environments.
The two products vary when it comes to print quality, dust and debris control and block out capability for privacy.
Our choosing the right product page explains these differences in further detail.
What size banners and signs can I order?
You can order banner mesh and front lit vinyl banners in any size you wish.
We do have some standard sizes to choose from that may fit the purpose that you require, in addition to buying 50m rolls of shade cloth and banner mesh, these are as follows.
900mm x 600mm
1200mm x 900mm
2000mm x 850mm
1600mm x 2200mm
1800mm x 2200mm
1600mm x 2400mm
1800mm x 2400mm
For more information on what sizes you can order please view our custom banners and signs page.
Do I have to buy whole rolls of banner mesh and shadecloth?
Banner mesh you can buy any size and shape you wish, we can sell you whole rolls up to 50m in length or custom banners only 1m long.
Printed Shade Cloth however we only sell in 50m rolls.
For more information on these product please view our printed products pages.
What type of inks do you use?
Our different products use different types of inks matched to the product to ensure the best print quality possible, here is an outline:
Printed Shade Cloth is printed using solvent inks.
Banner Mesh is printed using solvent inks or UV inks depending on your artwork
Front lit vinyl (used for Crowd Control Banners and Custom Sized Banners) is printed using latex inks.
You might also be interested in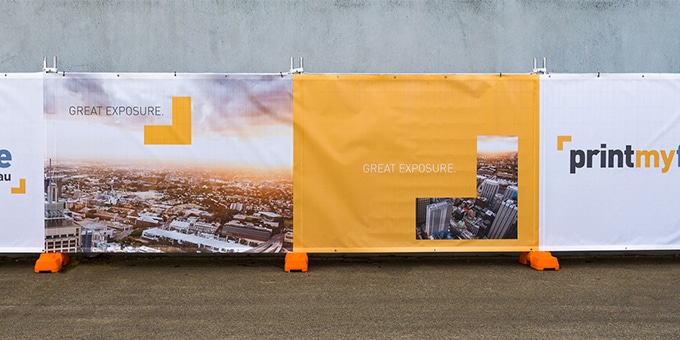 Our Product Range
Our wide range of printed solutions can support your business, promote and increase exposure of your brand, and ensure your site looks great and is safe.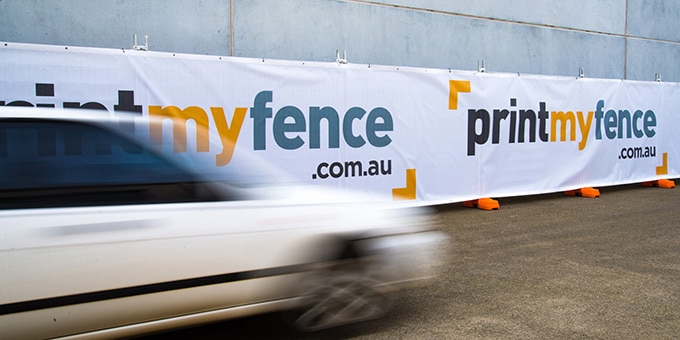 What is Full and Part Print?
The next decision is whether or not you want a full or part colour print.
All prints start with a white colour roll, and there are no restrictions on colours used.