Printed Banner Mesh is one of our most popular products at Print My Fence.
It has a more complex weave than shade cloth resulting in a superior-quality print. The permeable material of our fence Banner Mesh means it's completely breathable, allowing for airflow without compromising on wind resistance on your worksite.
At Print My Fence, we use premium materials to create Banner Mesh that will help attract the attention of passing pedestrians and cars. Whether you need a branded wrap to cover your entire fence or a small mesh banner, Print My Fence are the team to call!
Ideal Locations for Printed Mesh or Banners
If your business is located in a built-up area, fence Banner Mesh makes it possible to achieve high-impact outdoor advertising that can help generate new leads for your business. We create appealing banners that will help your business to achieve a greater exposure.
Our professional and experienced team use cutting edge equipment and materials to print banner mesh for a range of purposes. These include entire rolls for long fencing runs on construction sites, branded fence wrap for multi-story scaffolding, custom-sized banners for use at events and sponsor signage for sporting fields and festivals.
Tear Proof Edges
When purchasing Banner Mesh, it is important that you opt for one that can withstand exposure to the elements like wind, rain, and sun. Our Banner Mesh is reinforced with a 50mm weld at over 600 degrees; this creates tear-proof edging and a superior and durable product.
Stainless-steel eyelets (which are known to be stronger and longer-lasting than brass eyelets) are then punched through the reinforced edges. This provides strong and lasting support and allows for easy installation.
Banner Mesh Grades
At Print My Fence, we're committed to providing our customers with the right Banner Mesh for the right job. We offer a choice of two different grades of printed Banner Mesh, these being Economy Mesh and Premium Banner Mesh. Our two options ensure you receive a product that best suits your needs and budget.
When you choose Print My Fence for your printed Banner Mesh, you can rest assured that your banner will feature clear and vivid imagery without the ink bleeding, regardless of whether you choose our Economy or Premium products.
Optimal Printed Banner Sizes
We can digitally print Banner Mesh up to 5 meters in height and up to 50 meters long without any joins. With such large print banner sizes available your banner is guaranteed to be seen from the footpath or road alike.
Print My Fence uses only the best materials and equipment to produce eye-catching banners whether for branding or safety purposes.
Nation Wide Delivery Service
Make the right choice for your printed Banner Mesh by getting in touch with the friendly team at Print My Fence. We give business owners a cost-effective and clever way to advertise their company, while also clearly distinguishing their worksite. Print my fence delivers nationwide and is supported by depots in Brisbane, Sydney, Melbourne, Adelaide and Perth.
To discuss your printed Banner Mesh needs with our expert team, call us today on 1300 535 419.
Printed banner and fencing mesh rolls are available as a full colour print or a part print (50%) on white.
You might also be interested in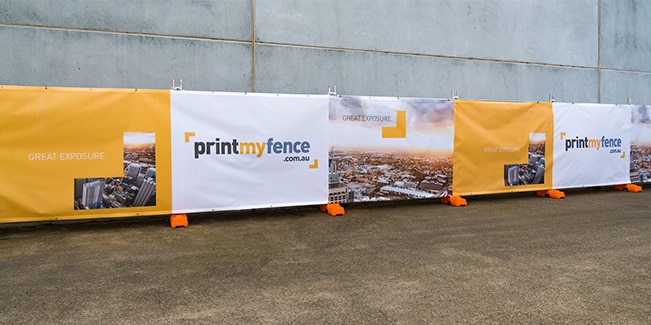 Choosing the Right Product
Printed Banner Mesh and Shade Cloth are exceptional when it comes to catching the eyes of passers-by. It increases awareness of your brand, business, the services you offer and/or event you are running, or project you are working on.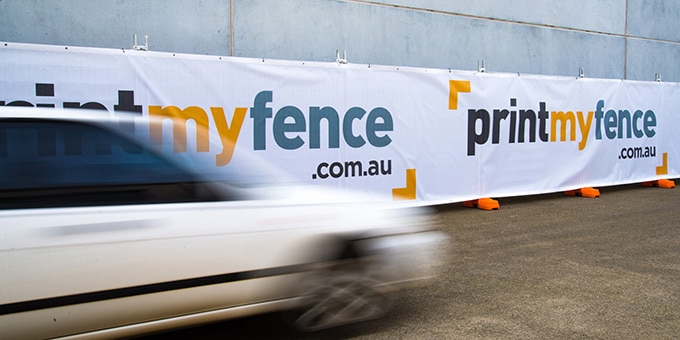 What is Full and Part Print?
The next decision is whether or not you want a full or part colour print.
All prints start with a white colour roll, and there are no restrictions on colours used.