Outdoor Ads That Are Always Visible
Installing a branded outdoor fence at your worksite, office or other commercial property is a cost-effective way of gaining exposure and adding aesthetic appeal to your property. Print My Fence are the leading suppliers of branded outdoor fences in Australia, using the latest technology to print high-quality products for customers across a range of different industries. With a variety of outdoor advertising options available, Print My Fence will ensure your business gets seen.
Our Best Products for Outdoor Advertising
One of our most popular products is our outdoor advertising printed shades. Printed shades are designed for long runs up to 50m, making them ideal for large-scale advertising that will catch the eye of every passer-by. Their scale makes them ideal for developers and builders who wish to gain some extra exposure at events or on their construction site.
Additionally, our outdoor products are all well-suited to the harsh Australian climate, whether that's the burning sun in Brisbane or the unpredictable rain in Melbourne.
Your custom outdoor advertising printed shade or branded outdoor fence can include your logo, contact details and the message you wish to convey to your audience. With just one purchase, you can enjoy ongoing advertising, unlike a TV or radio campaign which will constantly require funding.
Make the most of your existing space by cleverly utilising it for advertising and improving its appearance with branded outdoor fences or outdoor advertising printed shades from Print My Fence. Call us today on 1300 535 419 or contact us online to find out what we can do for your business.
You might also be interested in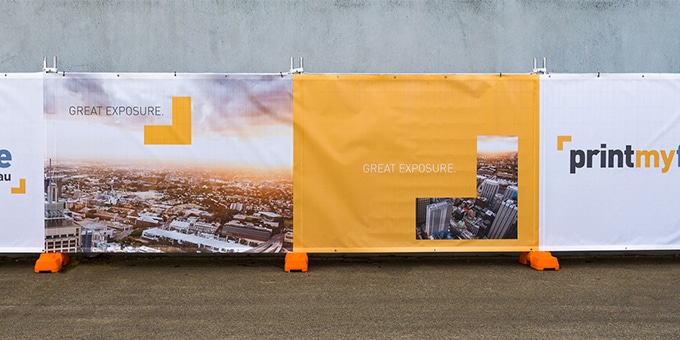 The Difference Between Materials
Our two different types of materials to choose from for Fence Signage, Banner Mesh and Printed Shade Cloth, each have their own characteristics in terms of print quality, and suitability for different environments.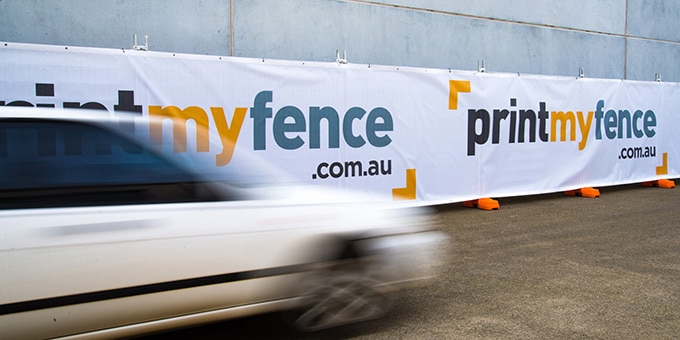 What is Full and Part Print?
The next decision is whether or not you want a full or part colour print.
All prints start with a white colour roll, and there are no restrictions on colours used.