We work with the best materials in the industry
Have you been searching for high-quality construction site safety signs to inform workers and visitors? Print My Fence are Australia's leading suppliers of branded, informative construction site safety signs that not only serve to inform anyone at your worksite, but will also create brand awareness.
Our material of choice for construction site safety signs is Corflute. With Corflute printed site safety or information signs, you can increase the branding of your site as well as meet your OH&S obligations! Corflute is ideal for a wide range of applications, but is particularly used for signage, especially in the construction industry, as well as promotional signage and advertising.
Why Choose Corflute Signs
Corflute is a light, weather-resistant and tough plastic made to withstand Australian conditions. It is cheaper when compared to other signage options such as PVC and metal, a perfect temporary signage solution, and also recyclable! For more information on corflute signs, check out our FAQs.
Our standard sizes for Corflute printed site safety signs is 1200mm x 900mm or 900mm x 600mm and come as a standard 5mm thickness. However, we can cut Corflute to any custom size and shape, add panels together to create larger scale signage, and can also finish it with stainless steel eyelets for easy mounting, to ensure complete customer satisfaction. Print My Fence™ can also do large format site safety signs up to 2.7m x 2.1m made from premium banner mesh.
Please give us a call on 1300 535 419 or send us an email if you require any Corflute printing or custom site safety signage for your worksite or commercial property. We deliver nationwide and are supported by depots in Brisbane, Sydney, Melbourne, Adelaide and Perth.
You might also be interested in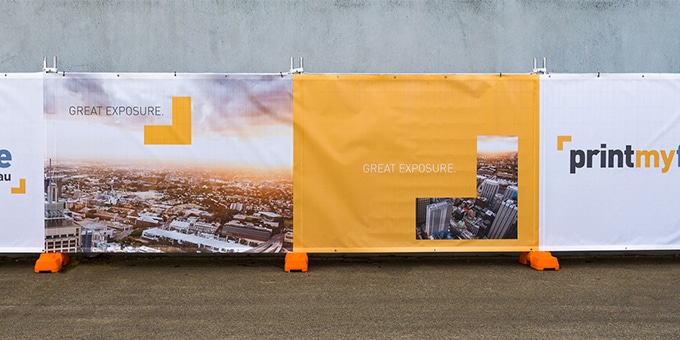 The Difference Between Materials
Our two different types of materials to choose from for Fence Signage, Banner Mesh and Printed Shade Cloth, each have their own characteristics in terms of print quality, and suitability for different environments.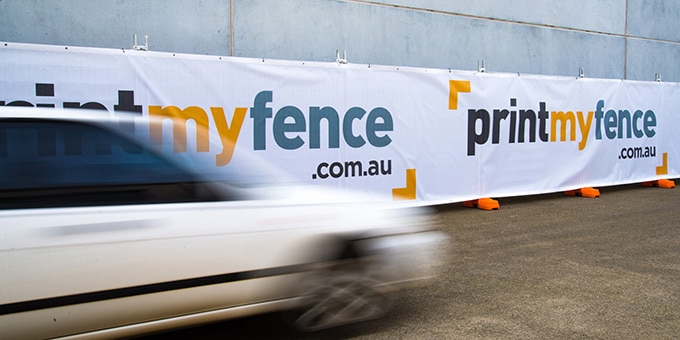 What is Full and Part Print?
The next decision is whether or not you want a full or part colour print.
All prints start with a white colour roll, and there are no restrictions on colours used.