A cost-effective way to promote your business.
Printed Shade Cloth is a cost-effective way to promote your business, a low cost branding and outdoor advertising option. It looks professional and provides maximum exposure, whilst at the same time controls dust, debris and provides shade with a 70% UV block out.
Available in 50m rolls at 1.8m high, you can print shade cloth in full colour, or as a part colour print on a white background. We are so confident in our prints that we guarantee they will last two years in harsh Australian environments.
You can either prepare the print ready artwork yourself or let our in-house designers take care of it for you. Just send us the Print Ready logos, text and photos that you wish to have printed on your shade cloth roll.
Printed Shade Cloth comes as standard with button holes, just like a shirt, and can be easily attached to your fence with cable ties or Jambro Fasteners using a Jambro Gun.
Print My Fence™ Printed Shade Cloth is a more economical option when compared to banner mesh products. It is built to last, with durability you can rely on, backed up by a five year UV guarantee on the cloth.
It's manufactured from UV-stabilised HDPE using a knitted construction with a heavy duty monofilament thread; it is much stronger than domestic shade cloth.
We deliver nationwide and are supported by depots in
Brisbane
Sydney
Melbourne
Adelaide
Perth
You might also be interested in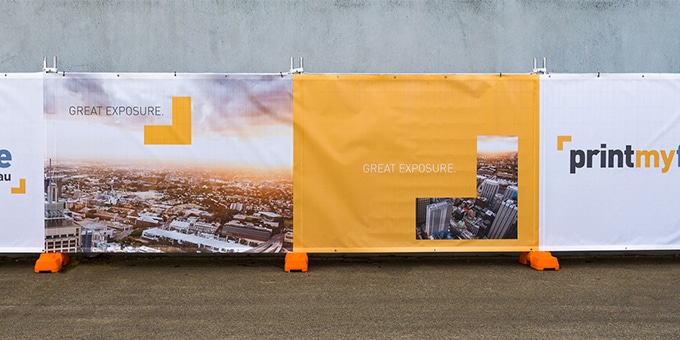 The Difference Between Materials
Our two different types of materials to choose from for Fence Signage, Banner Mesh and Printed Shade Cloth, each have their own characteristics in terms of print quality, and suitability for different environments.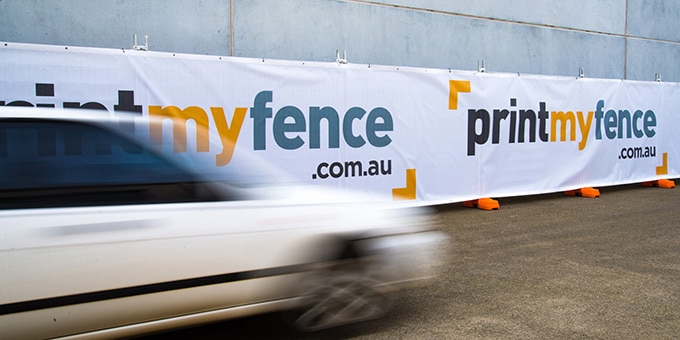 What is Full and Part Print?
The next decision is whether or not you want a full or part colour print.
All prints start with a white colour roll, and there are no restrictions on colours used.