Did you know that you can amplify your brand awareness using custom printed Banner Mesh and Shade Cloth? Custom printed banners are an inexpensive high impact advertising medium that has become a trend in the construction company. Not only will you be adhering to your OH&S requirements but you will also increase your company awareness.
However choosing the banner material best for your site can be a difficult decision. Banner Mesh and Shade Cloth are manufactured and designed with various factors in mind such as environmental performance, durability, aesthetics and cost.
Which is best for you? Shade Cloth or Banner Mesh?
Here are just some of the differences between the 2 materials
Printed Shade Cloth
Printed Shade Cloth is a cost-effective way to promote your business, a low cost branding and outdoor advertising option. It looks professional and provides maximum exposure, whilst at the same time controls dust, debris and provides shade with a 70% UV block out.
Available in 50m rolls at 1.8m high, you can print shade cloth in full colour, or as a part colour print on a white background. We are so confident in our prints that we guarantee they will last two years in harsh Australian environments.
You can either prepare the print ready artwork yourself or let our in-house designers take care of it for you. Just send us the logos, text and photos that you wish to have printed on your shade cloth roll.
Printed Shade Cloth comes as standard with button holes, just like a shirt, and can be easily attached to your fence with cable ties or Jambro Fasteners using a Jambro Gun.
Print My Fence™ Printed Shade Cloth is a more economical option when compared to banner mesh products. It is built to last, with durability you can rely on, backed up by a five year UV guarantee on the cloth.
It's manufactured from UV-stabilised HDPE using a knitted construction with a heavy duty monofilament thread; it is much stronger than domestic shade cloth.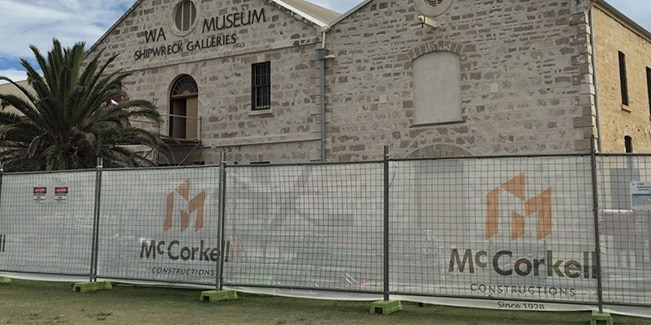 Custom Printed Banner Mesh
Printed Banner Mesh is our highest quality and most popular printed mesh product. It is less opaque when compared to printed Shade Cloth therefore visually superior when printed on. The high quality print is great at catching the eye of passing traffic, and perfect for use on large building sites as it breathes and permits airflow.
Does your business have a lot of passing traffic? Use your space for high impact outdoor advertising and generate leads now!
We can print banner mesh as entire rolls for long fencing runs on construction sites, to wrap multi-story scaffolding, or for custom sized banners for use at events and sponsor signage for sporting fields and festivals.
Our banner mesh is finished with a 50mm reinforcing weld at over 600 degrees, creating tear proof edges. Then the stainless steel eyelets are punched through the reinforcing, as these were found to be stronger and longer lasting than the brass eyelets, thus giving it the strongest support and making for easy installation.
We have three different grades of banner mesh each serves its own purpose:
We can digitally print mesh up to 5 meters in height and up to 50 meters long without joins, as well as making smaller custom sized banners.
If you are unsure about what you require our experts are just a call away.
We can help you make the right decisions, meet your requirements and help you stay within budget.
Just give us a call on 1300 119 998.