When ordering custom printed banners it is important to consider the type of finishing would best suit your needs. We offer a range of finishes, fixtures and fittings to help you attach your printed banners, shade cloth or signs to fences or scaffolding.
Here is a breakdown of the different options there are on different products:
Hemmed Edge
Hemming is a forming operation in which the edges of the banner is folded or folded over another part and sown in order to achieve a tight fit. Normally hemming operations are used to connect parts together, to improve the appearance of a part and to reinforce part edges. A hemmed finish helps to maintain the banner's shape and prevent stretching.
A hemmed edge finish is available for shade cloth.
Welded Edge
Hot welded edges are a banner finish with a folded edge. Approximately 4cm of the edge is doubled over and then hot welded to itself. Hot welding requires specific equipment and training, but this process creates a stronger, more consistent edge finish.
A welded edge finish is available for banner mesh and front lit vinyl.
Stainless Steel Eyelets
Stainless Steel Eyelets are built in to the top and bottom edges of the banner. Button hole eyelets provide premium strength and a neat looking installation for shade cloth banners. We recommend using cable ties to attach your printed shade cloth as it provides a secure and neat finish.
A stainless steel eyelet finish is available for banner mesh, front lit vinyl and is an optional extra for printed corflute.
Button Holes
Button Holes are the most efficient and in-expensive option for shade cloth banner finishing. These are pre-built holes in the banner that allow you to attach your shade cloth easily.
A button hole finish is available for shade cloth.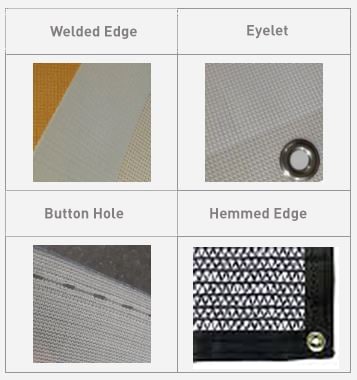 We have a range of custom printed products, these include:
Printed Shade Cloth is a cost-effective way to promote your business, a low cost branding and outdoor advertising option. It looks professional and provides maximum exposure, whilst at the same time controls dust, debris and provides shade with a 70% UV block out. You can print shade cloth in full colour, or as a part colour print on a white background.
For a highly visual branding sign our premium banner mesh works great. Premium banner mesh is the highest quality and most popular printed mesh product we sell at Print My Fence. It is great at catching the eye of passing traffic, it breathes and permits airflow and perfect for increasing brand exposure on your site.
Corflute printed site safety or site information signs, are a great way to increase branding on your site. Meet your OH&S obligations and increase the exposure of your brand! Corflute is ideal for a wide range of applications, it is most used in signage and commonly used for site safety and information signs in the construction industry, as well as promotional signage and advertising.
Environment factors can play a role in which banner finish is best suited to your site these include wind, purpose and longevity.
If you are unsure on what would be the best solution for your site please give us a call we would be more than happy to help. We deliver nationwide and are supported by depots in Brisbane, Sydney, Melbourne, Adelaide and Perth.